Abstract:
Dick Ryon (Non-Destructive Evaluation and Nuclear Chemistry 2000) made an eleven-day kayak expedition out the Columbia River and down the Oregon coast for 180 miles to Florence early in August. Traveling with a friend from the Bay Area Sea Kayakers club, the pair avoided towns, sought out caves and arches in the headlands, and found secluded spots to camp. Highlights included close encounters with gray whales and sea lions, beautiful natural scenery, highway bridges, and lighthouses. Planned future expeditions include the Pacific side of Baja California and Southeast Alaska.
Diary:
<![if !vml]>
<![endif]>
Sunday 5 August 2007 Day 1
On a long sandy beach outside the Columbia River Jetty
Yesterday, Dave Harry met Mike and me in Florence about 1:00 PM. We had a nice lunch at a riverfront café, after no breakfast. We loaded gear in Dave's Toyota truck, then went to the RV storage yard and parked my Subaru. The drive up Highway 101 to Astoria/Hammond 187 miles took us almost 6 hours! I had no idea we were asking Dave to make such a long drive. At 8:00 PM we began to set up camp on a nice grassy site at the Hammond marina, right by a sandy beach for launching in the morning.
Up at 6:00 AM, on the water by 8:00. We were on the ebb tide out the Columbia and making 6.6 mph according to the GPS. After a start on flat water and with overcast sky, we saw ahead as far as we could see in any direction white breaking waves. The current swept us into the apparent chaos, like it or not. Turns out it was not as bad as anticipated: the waves crests were spilling instead of breaking. Some waves got pretty steep. The rough water was maybe a half-mile in depth as we crossed what I assume was the Columbia River bar. We then continued along the jetty in pretty calm water. At the jetty's end was a large colony of sea lions. Rounding the jetty well offshore to avoid disturbing the sea lions, the water was pretty flat with breeze of maybe 10 mph. Swells and surf were small outside the river jetty. While landing, I got a great ride on one wave, and then stupidly (improper reflex) capsized on a small inside break.
All gear was transported across the broad sandy beach and lunch eaten by noon. Plenty of time to walk around and read. I set up camp in a small clearing in the nearby woods, Mike slept in the open on dense, tall grass.
<![if !vml]>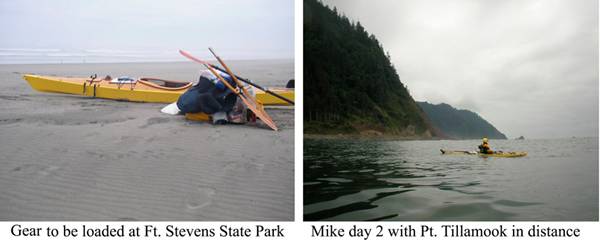 <![endif]>
Monday 6 August Day 2
Up before dawn at 5:00 AM in order to launch off the brad, shallow, sandy beach at high tide. On the water by 7:00, launching through small (2 ft) surf. The water was almost glassy. By 9:00 a small breeze picked up, rippling the surface. Swells were anywhere from 2-6 feet. Lots of birds on the water – murres, cormorants, black gulls. Loons called to each other across the water. We aimed straight for Pt. Tillamook, seen indistinctly about 20 miles away. This course took us well offshore, maybe 5 miles. That was OK because we just paralleled a very long sandy beach, not a lot to look at. We hit Tillamook Head about midway out the peninsula, and then paddled along its steep forested shore. The point has large offshore rocks including one about a mile out with a darkened lighthouse. Shot between the rocks for a little excitement. Landed on a rocky beach with dumping surf --- thankfully small and we found a tiny sandy place to land. We sleep on rocks tonight – no sand in the tent!
<![if !vml]>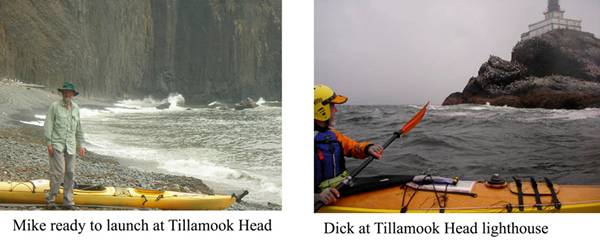 <![endif]>
Tuesday 7 August Day 3
Poked my head out of the tent at 6:00 AM and there were speckles of rain on the stones. Thereafter, it rained intermittently all day and is dripping now in the evening. Everything is wet. Inside the tent due to a leaking kayak hatch. I'm wet too. We sit under a nylon tarp and are semi-dry here.
This morning we launched into small dumping surf and I put a couple of gallons of water into my open cockpit – unable to get spray skirt on before leaving the beach. Paddled out to the lighthouse. It is long-abandoned and now the rookery for hundreds of pelicans. Pointed south to Falcon Point. Breeze came up to maybe 10 mph from the south and continued all day, slowing progress. Water was bumpy. Passed offshore spires and rocks, one with an arch. Passed Cannon Beach with new wall-to-wall houses and condominiums that stretch along the shore maybe 3 miles. The steep low mountains drop into the sea. Woods (with clear-cut patches) and green vegetation everywhere. Our cove at Pt. Falcon is well protected and stony. There is a little stream where we can replenish our water supply.
<![if !vml]>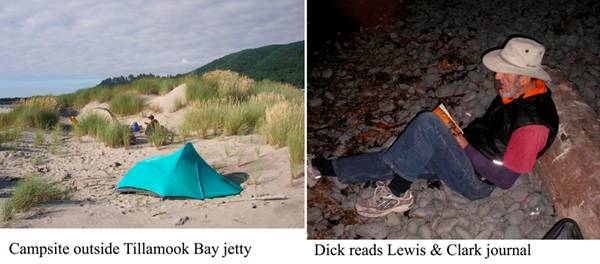 <![endif]>
Wednesday 8 August Day 4
Still wet this morning, but there was a ray of sun through a small blue patch in the sky. No wind, almost no swell, almost glassy sea. We came immediately to Smugglers Cove, a pretty wooded valley that opens to the sea and has a state park. The next point was spectacular. I entered a cave; there was an opening behind me and way off in front of me another opening. Mike came up from behind. We proceeded through the long pitch-black tunnel. It grew so dark we could not see the walls and more importantly could not see the ceiling. Rising on the swells made me almost feel a bump that never came. There were more spectacular caverns, including one with a pillar in the middle that I surfed around on a swell. After that, it was long sandy beaches and several towns. We tended to stay well offshore to avoid breakers. The sky continued to clear, giving us blue sea for the first time. We landed for lunch at the south of Nealem Bay jetty for a real lunch instead of a snack at sea. A couple of miles before Tillamook estuary, there is a small island with a nice arch, and lots of pelicans. I saw two dolphins.
We camp tonight south of the jetty to Tillamook estuary, landing through small surf. The afternoon has been sunny and breezy, perfect for drying all our wet stuff. I bathed in the sea – briefly. We camp in the dunes, trying to be inconspicuous, as we don't know the legality of camping here.
<![if !vml]>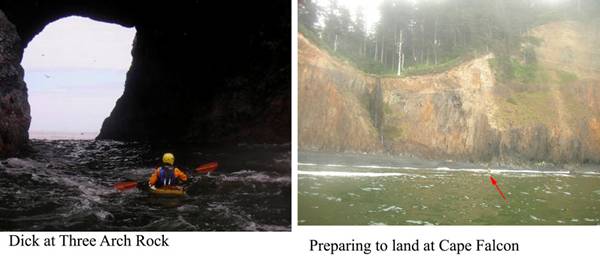 <![endif]>
Thursday 9 August Day 5
Left Tillamook Bay and headed for Pt. Meares where there is a lighthouse. Land tourists looked down on us and we looked up at them. Explored caves and bounced around near the cliffs. Then out to offshore rocks, really mini-islands, with 3 arches. Found out too late the area was closed due to wildlife. We could hear sea lions barking and had stayed well clear in order to not disturb them. Then another crossing to Pt. Lookout. Wonderful caves, some of which were rookeries for murres. Sorry to disturb them. They would fly down from their perches and bounce on the water, some diving, some "flying" on the surface. Rounding the point, we came to a long sandy beach. Caught unaware, we were hit by breaking waves. I got side-surfed almost to shore, and then turned out through rows of breakers. We landed at a small creek. As we transported our cargo across the broad strand, a hundred boy scouts trooped down the beach. As the sun sets, thee are 200 kids a mile down the beach having a campfire gathering.
<![if !vml]>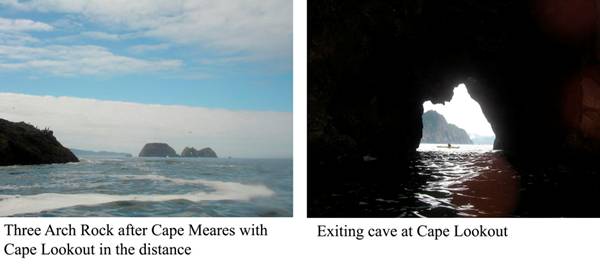 <![endif]>
Friday 10 August Day 6
Up at 5:00 AM planning on a 7 AM launch for a 22-mile day. Trekking gear across the broad sandy beach slowed us enough that we didn't get wet until 7:45. It was a small challenge getting beyond the multiple breaks. Once out, the sea was calm with no wind. NOAA weather gave a small craft advisory for the afternoon --- 15 to 20 mph wind gusting to 25. We caught the southbound current and made about 5 mph. Long sandy beach, a point, another long sandy beach. That seems to be what the Oregon coast is.
Passed a small island shaped like an egg standing on end near Cape Kiwanda. Then on to Cascade Head where there are fine caves. Sorry to say, we startled harbor seals inside of one. There were Stellar sea lions on the rocks and frolicking in the water. Mike says he saw a minke whale. I saw two puffins. As we rounded the head, the predicted wind arrived. It was a chore keeping the kayak going in the right direction crossing the small bay to our day's destination due to quartering wind. We were glad to find the beautiful horseshoe cove. Landing through the surf was interesting and went well. The cove is surrounded by steep hills and cliffs, a very private place with broad sandy beach. Elk tracks in the sand. Landed at 2 PM. It is warm and sunny so all the gear dries.
<![if !vml]>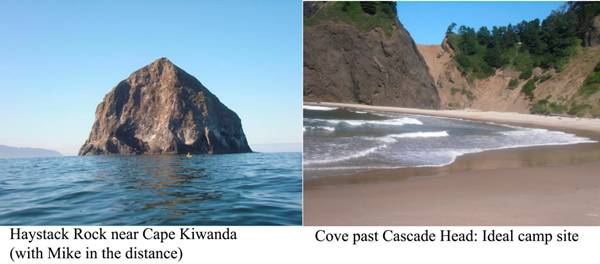 <![endif]>
Saturday 11 August Day 7
Last evening the wind really picked up, churning the sea --- thank goodness we were on land in spite of blowing sand. Fine sand got through the mesh screens on our tents and covered everything inside. We hunkered down behind large driftwood logs to cook dinner. After sunset, the wind diminished.
Up at 5:00 AM for a 20-mile day. We wanted to be off the water before the predicted afternoon wind kicked up. On the water at 7:08, pretty good! There was confused surf at the launch, but only about 3 feet high so got through with no difficulty. Sea was calm. Paddled along sandy beaches, maybe a mile offshore. This portion of the shore is almost completely developed.
We saw 3 whales today. Got a good view of the snout of the first. Shaped like a gray, barnacled like a gray, so must be a gray. When the second sounded, its back looked characteristic of a humpback. The third blew right ahead of us, near a sport fishing boat. When it dove, its back looked like another gray. I didn't know this would be a whale-watching trip!
Lunch at appropriately-named Whalers Cove. It is only accessible by sea by us ordinary folk as it is otherwise the exclusive domain of the homeowners of the large houses above. Beautiful curved beach, protected by large rocks at the cove entrance.
We searched for and found an isolated cove to camp, previously identified as a potential campsite on satellite photographs. The beach is 100% small rounded black stones. No blowing sand today! Off the water by 2:00 PM. Predicted big wind did not arrive, just a pleasant breeze. It is warm and clear. All the dew from last night and seawater from today dried. A bathed in the sea --- briefly. There was no current assistance today.
<![if !vml]>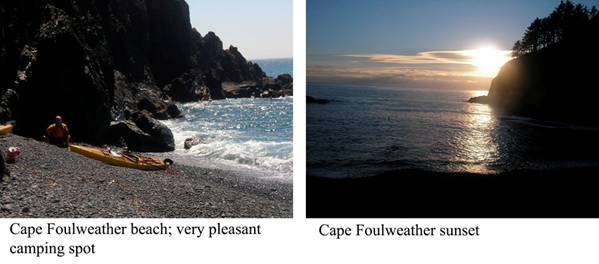 <![endif]>
Sunday 12 August Day 8
Had a nice fire on the beach last night staying up late since we would not rise early in the morning. Started the fire with white gas, too much it turns out. When I put a match to it, it exploded with a whoosh(!) and a big flame. The dry driftwood made a nice fire and coals.
Awake at 5:00 AM as the tap-tap-tap of raindrops on the tent fly intruded on my dreams. Damp when we got up at 7:00 AM but the rain was finished. On the water before 9:00 AM. Made radio contact with David Harry and made arrangements to meet at Devils Punchbowl about a mile south. Nice reunion with him and wife Chris at the state park above the beach. David joined us for the day's paddle and Chris would meet us about 13 miles south at the Yaquina Bay jetty.
The sea was never so calm. Swell was almost imperceptible and there was no wind. Aimed straight across the bay to Yaquina Lighthouse. Some caves below the lighthouse. After lunch on land, we headed for the jetty laying low on the horizon. Easy, relaxed paddle on flat water. Sky is overcast and water is gray. After landing, David and Chris went off to buy wine and take-out food.
David and Chris arrived with armloads of food: clam chowder, fish and chips made from local halibut, local Rogue beer, and a bottle of nice chardonnay. A feast indeed; I ate far more than anything reasonable. It was a cheerful evening of fine companionship and food.
Monday 13 August Day 9
Up at 5:00 AM, on the water at 7:40 after carting gear and boats almost ½ mile across the broad, gently sloping low-tide beach. Cloudless day, ocean almost as flat as yesterday with no wind until about 2 PM. A 25-mile day, on the beach by 3:15. We passed by the natural river Alsea, that is to say, it has no jetty. We are now on the Yachats headland, next to Little Cummins Creek and Neptune State Park. Signs in the grassy area say day use only; not clear on the status of the beach where we intend to camp.
This was a most astonishing day. We encountered at close range at least three gray whales. I'm uncertain whether we kept seeing the same ones over and over again. We were in their company for more than an hour. While I was following after a pair, I looked back to see a whale surface two boat lengths away from Mike. He said later he could see it underwater to his side before it surfaced. I continued to follow one or two whales a couple of miles, as they were going our direction at about the same speed. I saw a whale spout repeatedly in the distance, very close to shore off the Yachats headland.
<![if !vml]>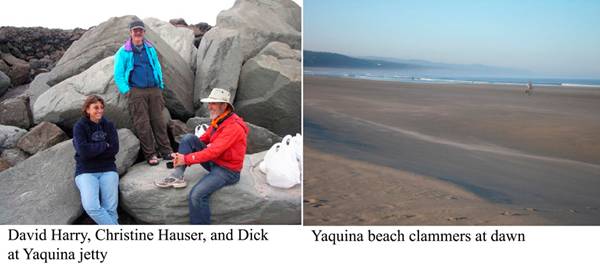 <![endif]>
There is what I suppose to be a fish ladder in a side creek right next to the highway bridge. It is a series of rectangular concrete basins. We bathed in fresh water and rinsed all of our paddling clothing to get the salt a sweat out of them. They dry quickly in a very warm sun. I write this in the shade of a large rock.
<![if !vml]>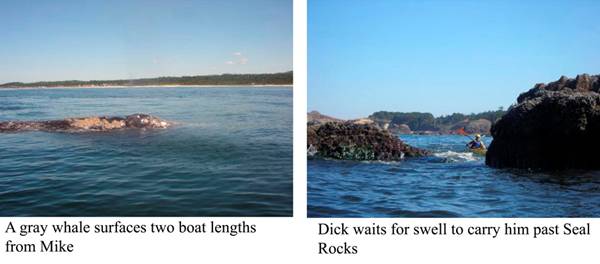 <![endif]>
Tuesday 14 August @ Heceta State Park and Lighthouse Day 10
Launched again at low tide this morning. Had to wade butt-deep between sand bars to reach the open sea. It dawned clear and bright, with dense fog offshore. By launch time, the fog was upon us. After passing through the surf, we used GPS, compass, swell direction, and the sound of surf to navigate. After a couple of hours we could at least see the tops of breakers although not the land. Heard a whale exhale a couple of times, and then saw it. It surfaced a couple of times, not far away, and then went its separate way. When we got to Heceta Head, the fog lifted enough to allow us to see the rocks and caves; the lighthouse was almost obscured by the fog. Landed on a small stony beach up a small fjord. Since we are almost invisible to State Park personnel, we decided to stay rather than proceed to nearby sandy beaches that are mostly accessible from the highway. Leveled spots in the stones for our tents and dried things in the emerging sun.
Climbed the steep hill behind us by clutching grass, small plants, shrubs, and roots. Went to the lighthouse, eating blackberries on the way. Nice tour of a beautiful 1880's lighthouse with eight Fresnel lenses. I finally got out moleskin for painful blisters on my right fingers. Had to use duct tape, as medical tape did not hold in the wetness. Looks like I have silver fingers! Also experiencing pain in right pectoral muscle, maybe from so much sweeping to stay on course yesterday. Took a couple of Advil, used good torso rotation to avoid using other muscles, and paddled at a moderate pace. It was a short day – only about 10 miles – so speed was not important. Made it just fine.
Wednesday 15 August Day 11
No rush today as we only go about 13 miles to the finish. We took our time exploring Heceta Head some more, in and out of caves, over to the sandy state beach to take a better look at the nice double-arched Highway 101 bridge and the lighthouse keepers domicile, now and B&B inn. Looked at the other beaches we might have landed on, and it appeared that there would not have been a whole lot of ground above the high tide mark. As we approached the Oregon Sea Lion Caves (once a private tourist attraction and now a state park), an amplified voice warned us to keep our distance in order to not disturb the sea lions. As we began to turn out to sea, dozens of sea lions leapt from the rocks into the water. We were a good 400 yards offshore, so we surmised it was the amplified voice and not us that disturbed the sea lions. Further on, there were lots of sea lions cavorting in the water. More than once, a big bull with bared teeth charged me. A hard slap of the paddle on the water or a loud shout sent them below the surface. Apparently it was an aggressive show to tell us to keep away. After a few miles, it was again a long sandy beach, nicely undeveloped, with scenic mountains in the distance. We made a beeline for the end of the jetty, barely visible. Once in the Siuslaw River channel, the flood tide carried us along at a brisk clip. On the south side are large sand dunes. We stopped for a leisurely lunch within site of our destination, the Highway 101 Bridge at Florence. We looked for a landing spot on the south side, close to where my Subaru was parked. Finding nothing suitable, we crossed the river to the city marina. While crossing, we took turns standing in the eddy behind a navigation sign's pole where it was easy to stay stationary while the tide flowed past. Near the docks, Mike did a few nice rolls, much to the astonishment of a young boy who was fishing with his grandfather. I had been thinking of doing the same for some days. (I have a reliable roll, but had never rolled a loaded kayak.) Edging away from the dock and with Mike ready to assist with a bow recovery, I went over, did a sweep, and began to come up. The inertia of the loaded boat made it all seem very slow and I felt certain I would sink back into the water. But I didn't, thereby not disappointing either the young boy or myself.
<![if !vml]>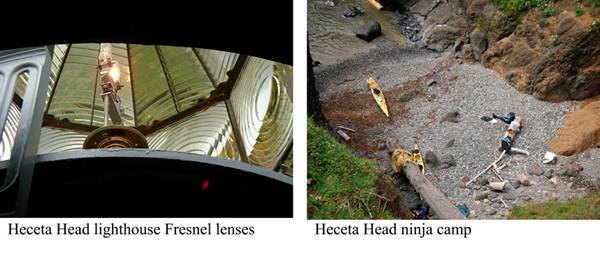 <![endif]>
I walked the mile or so across the river and back to the RV storage yard where my car was, chatted with the ever-friendly and talkative keeper, and went back for Mike and all our gear.
Drove to Dave and Chris's home in Philomath near Corvallis. Hot shower and big thick towels preceded wine and snacks before a nice seafood dinner in town. Wonderful hospitality and company with good friends relocated from the Bay Area.
<![if !vml]>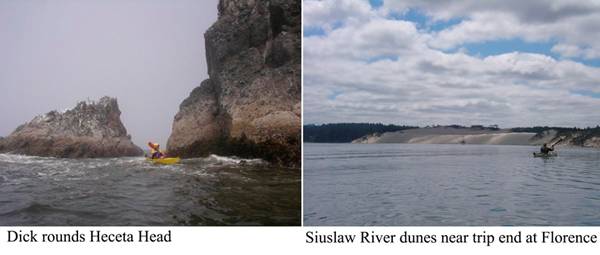 <![endif]>